Dump Trailer, Skidsteer + Mower Rentals
At Sun River Rental, we know that sometimes you want to rent the tools and attachments to do a job yourself and other times you may need to hire our services and equipment, especially when it comes to an experienced operator who can get the task at hand done quickly and efficiently, helping make the most of your time and budget.
To meet your needs, we provide dump trailer and skidsteer services for hire, which includes a 50-horsepower tracked skidsteer with attachments. While we're based in Augusta, Montana, we are available to travel to surrounding communities and towns, including Fairfield, Choteau, Simms and Fort Shaw.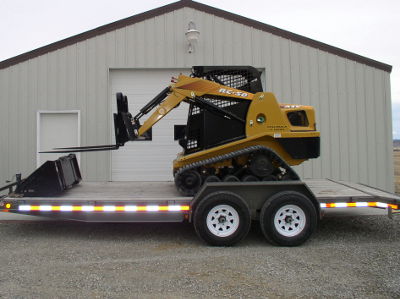 Equipment Rental and Services for Hire Rates:
Dump trailer and skidsteer - $75/hour
In addition to offering services for hire, we also rent and sell skidsteeer attachments as a Quick Attach dealer. Attachments available for rent are below, including daily and weekly rental rates, as well as the sale price.
| | | | |
| --- | --- | --- | --- |
| Attachment | Daily Rate | Weekly Rate | Sale Price |
| Auger w/ 12" + 5" bits | $50 | $160 | $1,250 |
| Landscape Rake | $100 | $325 | $3,500 |
| Post Pounder | $125 | $390 | $6,200 |
| Trencher | $95 | $315 | $2,900 |
| Mower | $100 | $325 | $4,900 |
| | |
| --- | --- |
| Auger: | Post Pounder: |
| Landscape Rake: | Trencher: |
| Mower: | |